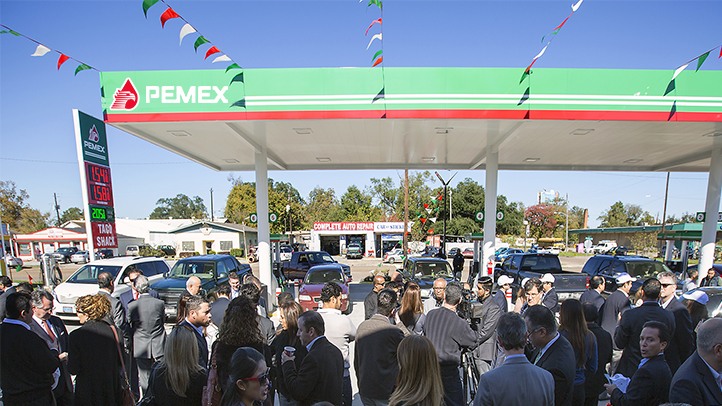 Mexico's national oil company Petróleos Mexicanos is opening its first gas stations in the United States with five inaugural store right here in the Lone Star State.
Known as Pemex, the Mexican oil company opened its first gas station at 9722 Park Place Boulevard in Houston on Thursday morning. Four more stations are planned to open in Houston this month.
Although Pemex has a refinery in the Houston suburb of Deer Park, the organization reported that the five gas stations are franchised and do not sell their brand of gasoline.
The newly opened Pemex gas station includes a fully-stocked convenience store and a "Taco Shack" restaurant.
Pemex officials said Houston was chosen as their launching point due to its high Hispanic population, and in particular Mexican population. If all goes well, they could expand their franchising opportunities in other markets.
"This pilot program will allow us to judge the impact of the Pemex brand against others and will identify business opportunities as part of our evaluation process to enter other external markets," Pemex officials said in a statement.
Although all Pemex gas stations in Mexico are full service, the Texas locations will be self-service. Pemex officials said the gas stations in Texas are being opened as part of Mexico's energy reforms, which have opened the nation's energy markets to foreign competition and investment for the first time in more than 70 years.
Observers say the franchise in Texas could be an important test for Pemex as Mexico seeks to open its lucrative gas station market over the next few years.
Starting in 2016, foreign companies will be able to obtain a permit to set up service stations in Mexico where they will be able to sell fuels from any company. Private companies will be able to freely import refined oil products into Mexico in 2017. The Mexican government will remove all price controls on gasoline and diesel in 2018.
Source: San Antonio Business Journal