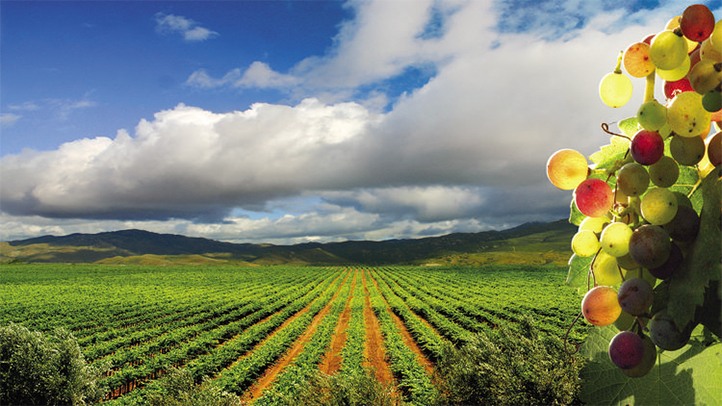 Tradition and climate usually dictate what grows where in the wine world. Napa is Cabernet country because the climate, by and large, is amenable to ripening the grapes. The same can be said for Nebbiolo in Piemonte, Chardonnay in Chablis, Syrah in Hermitage.
So what is warm, dry, Baja California, Mexico, amenable to? All of these varietals, plus everything short of a few cool-climate grapes such as Pinot Noir and Riesling. There you find varieties from Spain, Portugal, southern France, central and southern Italy, Greece and California, such as Zinfandel, Grenache, Syrah, Carignane, Petite Sirah, Tempranillo, Sangiovese, Barbera, Nebbiolo, Montepulciano and Aglianico. And whites such as Fiano, Viognier, Chasselas, Chenin Blanc, Vermentino, Colombard and Palomino.
Winemakers in this emergent wine region seem game to try almost anything, whether oddball varieties or anomalous blends. While this makes the region's identity somewhat fluid, it also makes Baja one of the more unpredictable wine regions in the Western Hemisphere.
At Casa Magoni winery, in the Valle de Guadalupe, Camillo Magoni has planted no less than 112 types of grapes. "It's like a universe of varieties," says Magoni, who at age 75 has recently started his own winery, Casa Magoni. "The potential is always surprising us."
Mexico is home to the oldest winemaking traditions in North America. Hernando Cortes, the Spanish conquistador, was said to have requested grapevines from his mother country as early as 1521. Grapes were established in 1707 on the Baja peninsula, whose similarity to the Mediterranean was recognized early, with the Pacific helping to modulate intense desert conditions.
By the mid-1970s the country's largest producers, L.A. Cetto and Casa Pedro Domecq, had extensive operations to produce cheap, commercial wines, primarily in the Guadalupe Valley northeast of Ensenada, an ancient seabed lined by low-slung mountains. With the aid of irrigation, the valley's arid climate and mostly boundless sunshine have made it an agricultural engine not just for wine but for the produce that supplies raw material for Baja Med cuisine — the farm-and-sea-to-table efforts of Javier Plascencia and Miguel Angel Guerrero, to name just two of the chefs who have reinvigorated the Baja dining scene.
An influx of winemaking talent has gone hand in hand with the region's culinary adventures, helped by the outreach efforts of Hugo d'Acosta, a French-trained wine grower who in 2004 established a hands-on wine school known as La Escuelita in El Porvenir. To date, more than 300 students have passed through its working cellars, and many have gone on to found or to work at wineries in the area. In 20 years, the number of wineries in the Guadalupe Valley has gone from a handful to more than 80.
Like Southern California, the Guadalupe Valley gets June Gloom fog incursions, which slow the ripening of the fruit grown there. Still, harvests of nearly every conceivable variety often begin in late July. This can result in a surfeit of options and an array of blending choices unlike anywhere else in the hemisphere. Some, like the estimable winery Mogor Badan, look to Bordeaux for its inspiration (and to Switzerland for its brisk, citrusy white, made with Chasselas). Other wineries apply their own combinations, as at Alximia, where winemaker Alvaro Alvarez organizes his blends around Petit Verdot and Zinfandel.
Elsewhere, all bets are off. Where else do you find Cabernet blended with Nebbiolo or Grenache? Or Sauvignon Blanc and Chardonnay inhabiting the same bottle, to say nothing of Viognier, from the northern Rhône, and Fiano from southern Italy? How is Nebbiolo so weirdly plush and vibrant in Baja, for example, when it's so grippy and lean in Piemonte?
"It has a richness here that it doesn't achieve in Italy," said Paolo Paolini, a Tuscan expat who founded the Villa Montefiore winery in the Guadalupe Valley and has imported a dozen Italian varieties. "You get full ripeness here, where in Italy, that's sometimes difficult. The skins get darker and take on more anthocyans" — the stuff in a red grape that lends flavor, color and intensity.
And while wine production in the region is burgeoning, it comes with its challenges. Water remains an enormous issue, especially in a valley so dependent on irrigation. The drought has not only reduced the water table for most producers (one winemaker said his well had dropped 30 feet since he first drilled less than a decade ago), but has also caused the remaining water to contain more dissolved salts, which can turn up in the wines. Some winemakers located outside the Guadalupe Valley, in places such as San Vicente, San Tomas and Ojos Negros, have blended their wines to minimize the salinity — though some maintain that the salt lends a bit of backbone to the wine's structure.
The other great issue for the region is perhaps more existential. With no appellation laws and no holds barred on experimentation, to date no one wine style has emerged to help clarify a regional identity. But Magoni, who has worked 50 harvests there and is still planting experimental plots, seems content not to rush into anything.
"We're still so young," said Magoni. "We still don't know. With some varieties, it will be years before we see their true potential."
Source:
LA Times