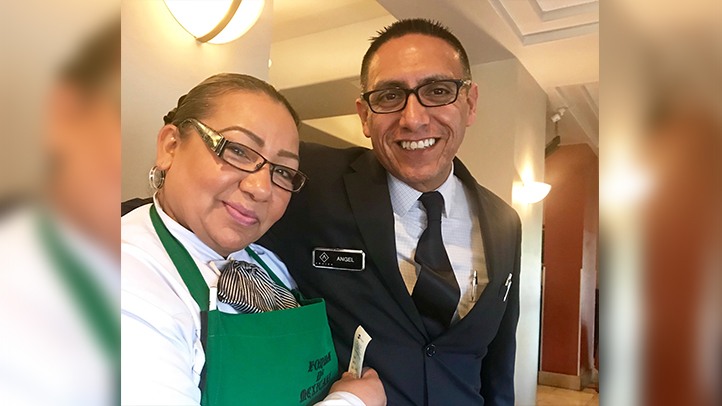 Mexicali, Baja California
To server Alma Ponce and Captain Angel Vazquez (in picture) of Fonda de Mexicali Restaurant at Araiza Hotel, a smile and positive first impression followed by a vigilant, attentive and efficient service, is the key for a hotel guest to come again.
"The hotel business in Mexicali has been a positive contribution to our local manufacturing companies. On a daily basis, we host many international executives visiting Mexicali from companies such as National Oil Varco, Constellation Brands, Gulfstream, Rockwell Collins, UTC, Sun Power, Kenworth, Nippon Sheet Glass, and Furukawa among others, as well as those considering to establish plants in Mexicali; therefore, our contribution is to provide good service with a positive attitude," said Captain Vazquez.
PIMSA would like to recognize and thank those men and women hosting our international business visitors in Mexicali. "This is an important complement to generate a pleasant and friendly face to potential industrial investors in Mexicali," said Cesar Ponce, who represents 38 international companies in PIMSA.
Hotel service in Mexicali is prime. Araiza, Lucerna, Calafia, Holiday Inn, Real Inn, among others are in high gear. Several new hotels are now under construction adding to this important Mexicali hosting service with quality brands such as Four Points by Sheraton of the Wong Family.
"A warm welcome for our visitors is important to us! Attitude is the secret!"- Xavier Rivas, VP of Busniess Development, PIMSA.