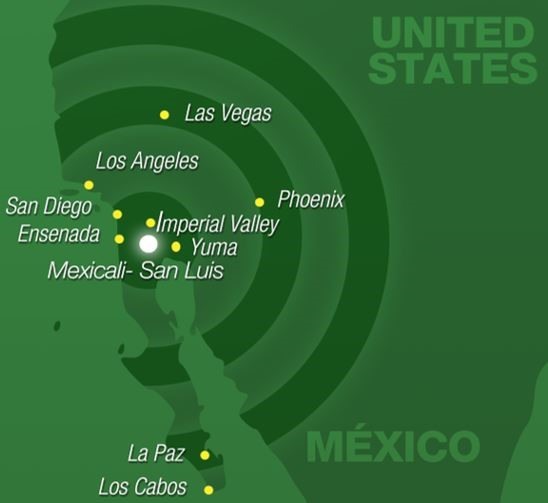 Location
PIMSA is located within a $4.3 trillion dollar binational mega region.
This geopolitical position is unique
Buildings
All of PIMSA´s industrial buildings are located near the US Commercial Port of Entry.
Logistics
Maritime: Port of San Diego (2 hours), Port of Ensenada (2 hours), Port of Long Beach / Los Angeles (4.5 hours).
Rail: Mexicali is serviced by Ferromex and Union Pacific.
Road: Easy access to the US Interstate Highway System.
Air: Quick access to airports in Mexicali, Tijuana, San Diego, Los Angeles and Phoenix.
Profit Center
Our strategic location puts you near important industrial centers like Los Angeles, Phoenix, Las Vegas, and San Francisco.
Proven Experience
PIMSA has over 50 years of experience soft landing companies in Mexico.
Fortune 500 companies like Rockwell Collins, Robert Bosch and PepsiCo (Frito Lay) have trusted us for decades to take care of their industrial building needs.
For more information visit www.pimsa.com.mx; email our Business Development Department at promotor@pimsa.com.mx; or call our US phone at 1-888-467-4672.