40 YEARS OF UROLOGY PRODUCTS SAVING AND TRANSFORMING LIVES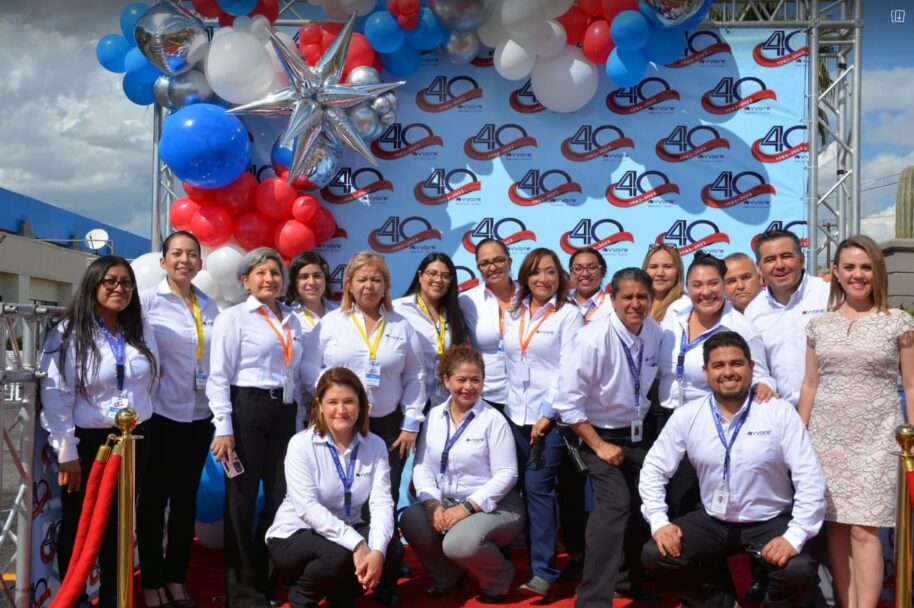 Mexicali, B.C. – With the goal of saving lives through the products manufactured by talented Mexicans, Productos Urólogos de México has established itself as a pioneering company in the world-class medical device industry and proudly celebrates its first forty years of operations.
Throughout its four decades of history, Productos Urólogos has belonged to several corporations such as Cardinal Health, Care Fusion, Becton Dickinson (BD), among others.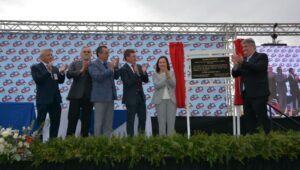 Currently, the company belongs to Vyaire Medical, whose expertise is in the development of devices for respiratory therapy. Therefore, at the anniversary ceremony, the Chief Operations Officer (COO), John Elwood, acknowledged the commitment of the Mexican collaborators.
"For several years, I have had the pleasure of visiting several companies in Mexico, such as Ciudad Juárez, Tijuana, and Mexicali, as well as other places in China and Europe, and I have to say that you can compare yourselves with any of these plants, you carry out world-class operations, and you deserve a big round of applause for it," said the COO.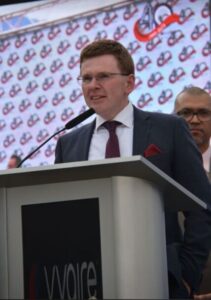 TRANSITION TO A GREAT TRANSFORMATION
With 26 years in the company, Zarina Carranza Zenteno, Plant Director, had the opportunity to climb different positions until reaching the pinnacle of leadership for Mexicali, and explains the infallible formula for captivating her collaborators for decades.
"The secret of Productos Urólogos throughout these forty years has been our people, the commitment of all leaders, to give our greatest effort every day, without our people, we are nothing, and we have learned this from the beginning. The leaders we have had throughout these forty years understood from the beginning that our main asset, the most valuable one, is people, and we have not let them go, and that has earned us the organizational culture we have today," expressed Zarina Carranza.
In the future, a significant change is foreseen with the automation of production lines, as well as an increase in manufacturing volume.
"Next year, we expect a growth of 20 to 30 percent in collaborators, while in production volume, we may reach 30 percent," reported Carranza Zenteno.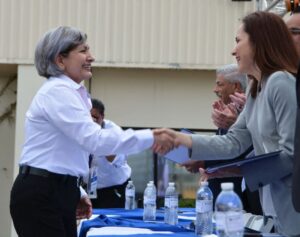 IMPROVING THE QUALITY OF LIFE OF PATIENTS
As part of the celebrations for the 40th anniversary, Productos Urólogos recognized collaborators from 5 to 35 years of seniority, who expressed their gratitude to the company for the great work environment they experience, in addition to the nobility of the product they produce, which contributes to saving lives around the world.
Virginia Rodríguez, a production line supervisor, was one of the collaborators recognized for 35 years of tenure in the company, who began working for the same when it was located in the Alamitos neighborhood in this city, and for more than three decades, it has been like her family due to the great union and companionship.
"The unity we feel, the support we have, we feel like family here in the company, the trust, the respect we are given as employees, that has been fundamental for me to last so long here, apart from the fact that I really like what I do," Rodríguez expressed with great emotion.
Carlos González, a process engineer with 23 years of experience in the company, also expressed his pride in the great experience he has had in the company, which has enhanced his professional development.
"I am very proud to work at Productos Urólogos, what I have loved most about this company is the growth it offers us, the work environment, the teamwork, the family we make," Carlos González said.
Mario Torres from the Print Shop department, also with 23 years of experience, said that his mother invited him to work for the company. He started as an operator and then advanced through various positions such as cashier, dispenser, recycling area, and currently does printing. "That's why I've been here for so many years. I met my wife here, had my children here, Productos Urológicos is a part of my life. I also like the benefits we have and the product that is made here is to help patients and the sick people. That's what makes me work even harder," he excitedly commented.
Luisa Antonia Pérez Cortez, a line guide in the Misty Nebulizer area, expressed that she feels great joy working for a company she describes as very humane during her twenty years at Productos Urológicos. "Working for this company is a pride because we save lives through it. All the products we make in some way are intended to help patients have a better quality of life. Therefore, we work as a team, and I love that because it translates into teachings for our family," said Pérez Cortez.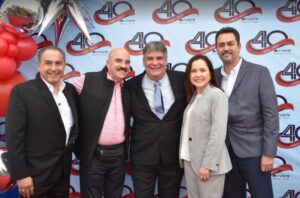 LEADERS
Plant Director Zarina Carranza also recognized the leadership that has been part of Productos Urológicos for the past forty years and has left its mark, including Mark Wobken, Luis Verduzco, Julio Cueva, Héctor Villegas, Rogelio Gutiérrez, and Guillermo Salcedo. "I can proudly say that those who have passed through this company remember it with great affection," she declared to the audience present at the celebration, among whom were some of the individuals mentioned.
As part of the program, a commemorative plaque for the anniversary was unveiled, in which corporate representatives, government authorities, and Productos Urológicos employees participated.
Source: https://www.industrialnewsbc.com/2023/04/10/40-anos-de-productos-urologos-salvando-y-transformando-vidas/